NEWS

March 2001: Benighted has begun work on the forthcoming album. Plans for re-recordings of 3 songs from "Harbingers..." are to be done on the new release. Keep your eye out for show dates on the tour section, Benighted will probably be playing again soon.

Feb. 2001: New promo photos added, as well as a new entrance graphic, no major band news.

JANUARY 2001 (cont.): The entire Benighted website was destroyed by angel cities. The renovation of the site is now in process using old files that were saved on tripod as well as brand new files, keep checking back for new updates and a great new appearance, the format will remain a bit simple until the final format is complete so bare with us.

JANUARY 2001: It is a new year and Benighted has a lot of things planned. There will be a few shows this month including a show with Baphomet/Necropolis recording artists Blood Stained Dusk, Benighted is continuing writing new material for the next studio album.

DECEMBER 2000: Benighted will be playing in Snow Hill, NC on Dec. 30th with fellow label mates Lust of Decay, check out the tour dates section for more info.

NOVEMBER 2000: Benighted's "Harbingers of the Victorium Aeternus" is now available and re-released on Arcadia Productions.

OCTOBER 2000(cont.): Benighted played Greenville, NC the show went rather well despite the set being cut short. Benighted will be touring the eastern U.S. November through January and will be joined with Adina Blase (Acheron, Lilitu, Cernunnos!) on keys, dates will be posted as they come up. Benighted is scheduled to go back into the studio to record new tracks for a split 7" with Arkanas' own Fallen Empire, more info will be released within the next month.

OCTOBER 2000: The show that was scheduled September 30th has now been moved to OCTOBER 6th, same bands, same place, just a different night. Admission is only $5.00 expect to witness the ultimate blasphemy!

SEPT. 2000: BENIGHTED is playing live in Greenville, NC on September 30th at THE CORNER with bands Cycle of Violence and Missfit Toys, the show is 18 +. Also Benighted is looking for a full time Live Bass player and Keyboardist, if you think you have what it takes and you will be comitted to the cause then send an e-mail to benighted666@yahoo.com

AUGUST 2000 (cont.): New photos have been added to the site, Benighted will have t-shirts available within a month with front and back print, the design will be quite blasphemous, more info and pictures of the shirt will be up when they are available.

AUGUST 2000: The re-release of "Harbingers of the Victorium Aeternus is already on its way from Arcada Productions, it should be available very shortly, contact us for more info or visit ARCADIA for further details.

JULY 2000: New site layout, the latest release "Harbingers of the Victorium Aeternus is being re-released on Arcadia Productions and should be out early August, tour dates are being planned out now, Benighted has also started writing new material and will be going back into the studio for a full length mid December, expect a new Benighted album January of 2001

JUNE 2000: The photo shoot scheduled for May 27th was cancelled and re-scheduled for June 3rd, a new graphic has been added to the page and the links have been updated.

MAY 2000 (cont.): The band played at Cassidy's in downtown Salisbury, NC. The show went rather well and had a good enough turn out, photos from the show are on the photo section. Benighted are going to do a photo shoot May, 27th some of the pics from the shoot will be posted a.s.a.p.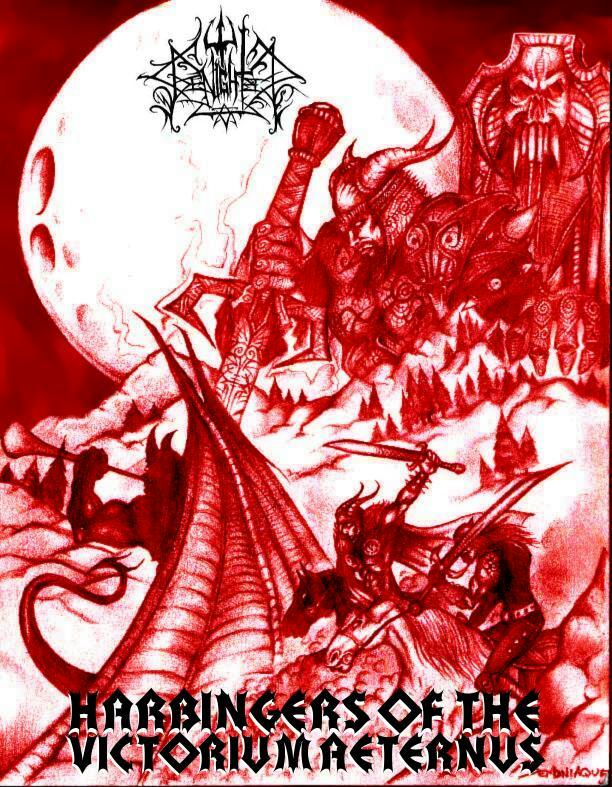 MAY 2000: BENIGHTED has come out of the studio, the new EP is complete and is entitled "Harbingers of the Victorium Aeternus" the track listing goes as follows:
1. Arise From the Depths
2. Upon a Throne of Blood
3. Darkened Hollow
4. Prelude to the Battle to Come
5. Under an Igneous Luming
6. Satan My Master* (Bathory Tribute)
Info will be posted on how to get this fine masterpiece soon, for now e-mail the band.

APRIL 2000:  The band has been confirmed to go into the studio to begin recording on April 29th, the release is planned for five tracks and should be something to look forward to, keep checking back for updates.

MARCH 2000:  Benighted is scheduled to go into the studio in late April to record a brand new album with newest members Zacathus and Storm, since both members have brought a brand new display of talent into the band, the new recording promises to be something great, and may rank up at the top with some of the U.S.'s greatest black metal bands, the recording is planned to have 7 tracks, the band is also planning to record a cover of Bathory's unreleased song "Satan My Master" for a tribute and it will probably be recorded in the same session.


FEBRUARY 2000: The brand new website is up, you can order Benighted's self released EP on CD for $7.00 and you can still get the first demo for $5.00, check the merchandise section for more details.